(NREI-CC-01A)

Real Estate Principles & Practices Course (Exploratory)
Dates & Times: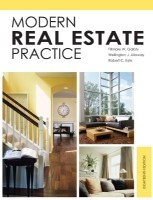 Description
Ten lessons plus final exam. Complete at your own pace (Maximum time to complete the course and be eligible for final exam and grade is 90 days).
This course is not approved for state pre-licensing requirements.
Real Property & the Law
Concepts of Home Ownership
Agency
Real Estate Brokerage
Listing Agreements & Buyer Representation
Interests in Real Estate
Legal Descriptions
Real Estate Taxes & Other Liens
Real Estate Contracts
Transfer of Title
Title Records
Real Estate Financing
Leases
Property Management
Appraisal
Land Use Controls
Property Development
Fair Housing & Ethical Practices
Environmental Issues & the Real Estate Transaction
Closing the Real Estate Transaction
General Info:
Correspondence students should complete at least 1 lesson every week and are required to complete the course within three months from enrollment date. For termination purposes, a student shall be deemed cancelled with no activity within a one-month period. An extension of up to 3 months may be made by special arrangements.
All tests required by each course or program shall be returned to the school, checked and results returned to the student. If any student is making unsatisfactory progress (i.e., below 70% average of the total program), they shall be notified by mail. The final grade for all courses shall be the average of the percentage grades of each test given during the program. This grade will be reported to student by mail.
Grading standards:
90-100 = A
80-89 = B
70-79 = C
70-100 = Pass
0-69 = Fail
Payment:
School policy dictates that correspondence courses be paid for by credit card, money order, or cashier's check.
Personal checks will not be accepted for a correspondence course. If mailing in registration, complete order page, copy and mail with full payment to:
National Real Estate Institute
Cromwell Executive Center
75 Berlin Road Suite #103
Cromwell, CT 06416
or copy and paste completed order form to an e-mail.
Cancellation Policy:
Tuition refund only before classes start, minus 10% service charge.