(NRE-CC-06)

Real Estate Brokerage, A Management Guide
Dates & Times: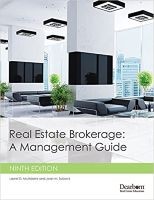 Description
This course will explore such fundamental issues as business planning, financial management, marketing and advertising, and professional ethics as well as law of agency, antitrust and other laws, including state regulations that serve to protect the public.
Allow time for your textbook order to be processed; delivery typically takes 4 to 5 days. You are ordering directly from the publisher.
Cancellation Policy:
Tuition refund only before classes start, minus 10% service charge.